Super Ordinary is an audio drama that follows Anika, a young woman who discovers she has super powers. There's only one problem: they're connected to her panic attacks. Join Anika as she tries to set her side of the story straight. Created by Marissa Tandon, featuring the vocal talents of Miya Kodama, Briggon Snow, Julia Morizawa, and more. To start listening, click here.
All In My Head is an audio drama that follows Nova, a young woman suffering from extreme bouts of sleep paralysis and night terrors. As she attempts to get to the bottom of her condition, she finds out there might be more to the monsters in her dreams than she thinks. Created by Alexandra Tandon, featuring the vocal talents of Mia Passarella, Michael Warker, Nicole Knudsen, Michael DiNardo, and more. To start listening, click here.
The Sword & The Stoner is a modern day, stoner comedy adaptation of the King Arthur legends. But instead of a legendary King and his Court Sorcerer, somehow 2019 ended up with an average-at-best stoner and an over-the-top reality TV magician. Join Arthur and Merlin as they try to get stoned enough to forget their destiny, even as it comes for them with a vengeance. To start listening, click here.
That Vampire Show follows Kat Wright, a high school senior who is obsessed with the hit TV show, "Bloodlines." After winning a fan fiction writing contest for the show, Kat is given the chance to visit set and meet the cast and crew. When the trip doesn't go as planned — and she and the creator of the show, Warren Young, have a major fight — Kat's life and the future of "Bloodlines" both spiral out of control. To learn more, click here.
This modern day, romantic comedy re-imagining of Shakespeare's Hamlet asks what would have happened if Ophelia had conspired with Hamlet to retake his rightful place on the throne. As they stage an engagement in the wake of the King's death, these childhood frenemies must decide between duty and love. To start listening, click here.
Life On Pause: A Quarantine Anthology is an audio drama set in a world that has been forced into lockdown due to a global pandemic. Each story follows a different version of the new normal, three years after humanity has been forced inside. Seven different households search for love, connection, and humanity in their new normal. Written by Marissa Tandon, Gabriel Urbina, Beth Crane, Miya Kodama, and Alex Whisenhunt, and featuring the voices of Felix Trench, Scotty Shoemaker, Risa Mei, Dallis Seeker, and others.  Click here to learn more.
Insufficient Facts is a science based panel podcast hosted by three current PhD students. Each episode, they break down research that falls under one scientific topic. Past episodes have included Space, GMO's, Artificial Intelligence, and Climate Change. Hosted by Christiane Jacquemetton, who is joined by Rockelle Guthrie and Kyle Naughton as panelists. To start listening, click here.
Every Wednesday, Host Marissa Tandon sits down with a new guest to answer one question: what piece of media changed who you are as a person forever?  Each guest brings a new answer, and over the course of the conversation, tries to do something we forget how to do as adults.  Be honest and passionate about the one deeply nerdy thing at the core of themselves.  Whether it's a billionaire trapped in a cave building a suit of armor, or a teenage girl who finds out she's supposed to stake the undead after class, everyone has a character that made them feel seen for the first time.  Each conversation, we try to get to the heart of the piece of media you love so much, because ultimately, you are what you love. To start listening, click here.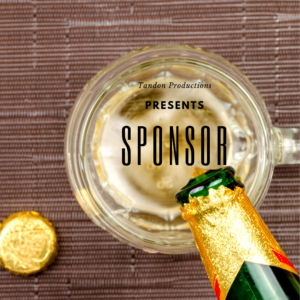 Sponsor, an irreverent comedy, follows the Golden family as patriarch Sam attempts his road to recovery. If getting sober wasn't hard enough, he's paired with an unusual sponsor: the ghost of his recently departed mother, Mia. To learn more, click here.
Join up-and-coming stand up comedians as they give you the best of their routines. The best part? You don't have to buy a drink to enjoy the show. Let No Drink Min bring the comedy club to you.